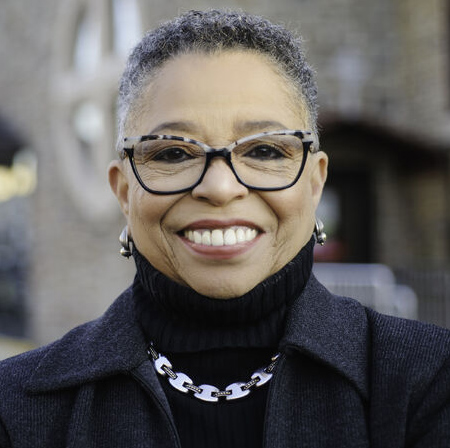 Leadership Development Instructor
Sharmain Matlock-Turner is the President and CEO of the Urban Affairs Coalition. She began her tenure in March 1999 with the special distinction of being the first woman to lead the Coalition. The Urban Affairs Coalition, formerly GPUAC, unites government, business, neighborhoods, and individual initiative to improve the quality of life in the region, build wealth in urban communities, and solve emerging issues. In partnership with a diverse board of directors, made up of business, nonprofit, and community leaders, Ms. Matlock-Turner and her team of managers and more than 500 employees create partnerships and build consensus to help families reduce poverty and reach the middle class. The organization's efforts are focused on four areas: improving life chances for youth and young adults; building wealth in low-income communities; forging strategic partnerships and strengthening the nonprofit sector through fiscal sponsorship. The organization has successfully managed more than $1B in public and private funds over its 50+ year history.
Ms. Matlock-Turner is co-founder and chair emeritus of the 22-year-old West Oak Lane Charter School. In addition, she serves on the following boards and committees: The Federal Reserve Bank of Philadelphia Board of Directors; Peirce College Board of Trustees; Entrepreneur Works; Greater Philadelphia Chamber of Commerce; Children's Scholarship Fund Philadelphia; Uplift Solutions; Philadelphia Council for College and Career Success; Foundations Inc. National Advisory Board; United Way of Greater Philadelphia and Southern New Jersey; AmerisourceBergen Foundation External Advisory Committee; Philadelphia Diversity & Inclusion Advisory Committee; The Philadelphia Foundation's On the Table Steering Committee; Pyramid Club Board of Governors; Cranaleith Spiritual Center President's Council; Mayor Kenney's Workforce Development Steering Committee; and the Independence Health Group Advisory Board for Consumer and Business Affairs.
Ms. Matlock-Turner chairs the Fashion District Economic Opportunity Oversight Committee and serves on the Comcast Innovation Center Economic Opportunity Oversight Committee. She was recently appointed by Governor Wolf to serve on the PA Redistricting Reform Commission, and the Census 2020 Complete Count Commission. She was also recently appointed by Philadelphia City Council to cochair its Special Commission on Poverty Reduction and Prevention. She is a founding member of the National Network of Fiscal Sponsors. She co-chairs the Draw the Lines PA East Steering Committee. 
Ms. Matlock-Turner has received numerous awards including the Philadelphia Inquirer's Diversity and Inclusion Award and the Philadelphia Business Journal's Most Admired CEO Award. She is often asked to speak to local, regional, and national organizations. She is a regular guest commentator on 6abc's public affairs television program, Inside Story.
Ms. Matlock-Turner holds a BS degree in education from Temple University. In 2005, she was one of three Philadelphia nonprofit leaders selected to receive a scholarship to the Harvard Business School's Strategic Perspectives in Nonprofit Management. In 2014, she received an Honorary Doctor of Humane Letters from Peirce College. She is a Senior Fellow at the University of Pennsylvania's Fels Institute for Government.
Ms. Matlock-Turner is a Philadelphia resident and is married to Anthony "Tony" Turner with two grown daughters, Ayanna Matlock and Naima Fleming, and is the grandmother of Joshua Matlock Hale.