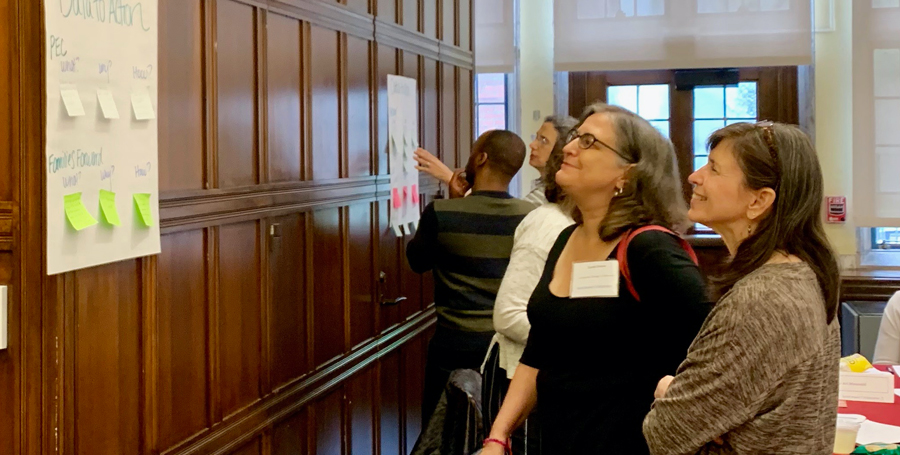 Featured learning and development project
The Social Impact Collaborative equips William Penn Foundation grantees with the information, skills, and tools they need to use data to drive improvement and share their stories with key stakeholders in the Philadelphia community and beyond.
During the first year of the program, each participating grantee selects a program, project, campaign, or initiative to be the focus of their participation in the Social Impact Collaborative. They develop or refine a logic model and aligned set of indicators for tracking impact, design a plan for data collection and analysis, and create a strategy for communicating about impact with diverse stakeholders. In the second year of the program, grantees apply these evaluation and learning practices organization-wide.
The following 10 organizations recently completed the second cohort of the program in fall 2020:
Community Design Collaborative
Cooper's Ferry Partnership
Independence Seaport Museum
Families Forward Philadelphia
Fleisher Art Memorial
Free Library of Philadelphia Foundation
Philadelphia Parks and Recreation
People's Emergency Center
Sustainable Business Network
The Village of Arts and Humanities
The following 10 organizations completed the inaugural cohort of the program, which concluded in spring 2019:
Barnes Foundation
Bicycle Coalition of Greater Philadelphia
Delaware Nature Society
Delaware River Waterfront Corporation
Education Law Center
Norris Square Community Alliance
Philadelphia Music Alliance for Youth
Philadelphia Parks Alliance
Philadelphia Public School Notebook
The River Network
We are currently accepting applications for the Social Impact Collaborative Cohort 3 (2021-2023). 
For an overview of Cohort 3's program goals and structure, click here. 
To apply for Cohort 3, click here for the application.
To sign up for an information session, click here.
Please email Impact-ED@sas.upenn.edu for more information about future cohorts.
 
Learn more about the Social Impact Collaborative and hear directly from participating organizations. If you are having trouble seeing this video, you can watch it on YouTube.