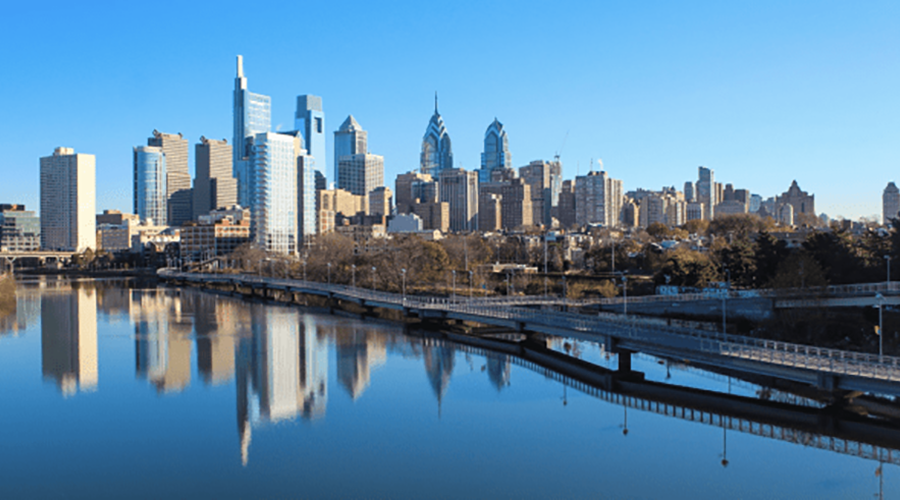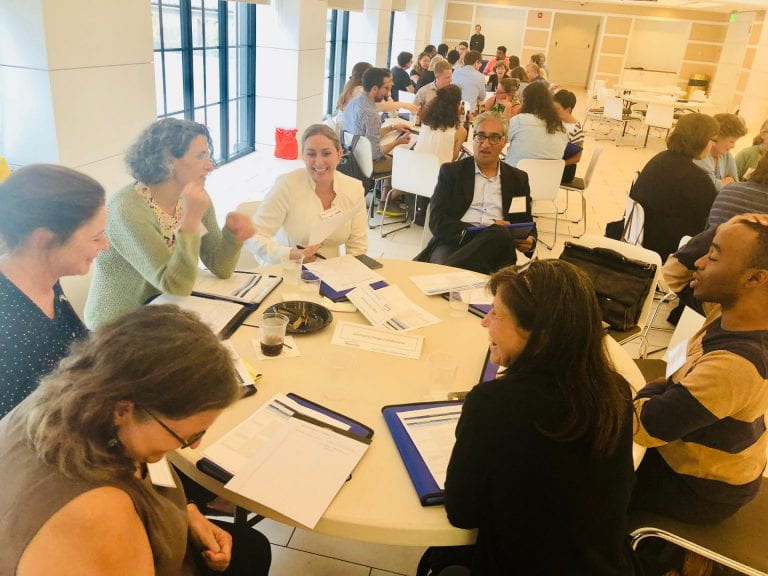 Over the last year, we asked the Philadelphia nonprofits participating in our second cohort of the Social Impact Collaborative program (SIC) to trust the process. For our team at ImpactED, this is more than just a classic Philly sports reference. 
In the SIC, we equip nonprofit and public sector leaders with the skills and tools they need to use data to pursue their purpose. Participants engage in two years of training and coaching sessions to learn how to assess and strengthen the impact of their programs. During the kick-off, organizations participating in our second cohort created six-word stories to capture their goals for the SIC. Several are featured below:
Actionable data = building an inclusive community
Identify impact, engage communities through storytelling
Co-created growth powered by artful data
These six-word stories demonstrate that the work we do in the SIC is about much more than data – it's about engagement and learning.  We've found that the only way for organizations to continually improve is to start small and remember that change takes time. It requires trusting the process.
---
The Social Impact Collaborative Process
The SIC process includes three key phases:
Evaluation Strategy.  In this phase, organizations determine how best to capture progress on a particular program or initiative. This part of the process helps organizations determine what matters most and focus on their key outcomes. It requires clarifying your purpose. 
Data Collection and Analysis.  In this phase, organizations develop a plan for collecting data to capture information on key outcomes. This requires being curious and constantly asking questions to better understand if – and how – your program is achieving the desired result.
Data Use.  In this phase, organizations learn how to use data to inform key program decisions and communicate with a variety of stakeholders. This part of the process is about celebrating your successes while also confronting your challenges head on. Ultimately, this requires the humility to recognize that things might not be working as intended and the courage to try something new.
---
By the numbers, nearly all SIC participants in our second cohort reported that the program provided concrete tools that would support their organization's growth and that they are now more confident in their ability to integrate measurement, evaluation, and learning practices into their work.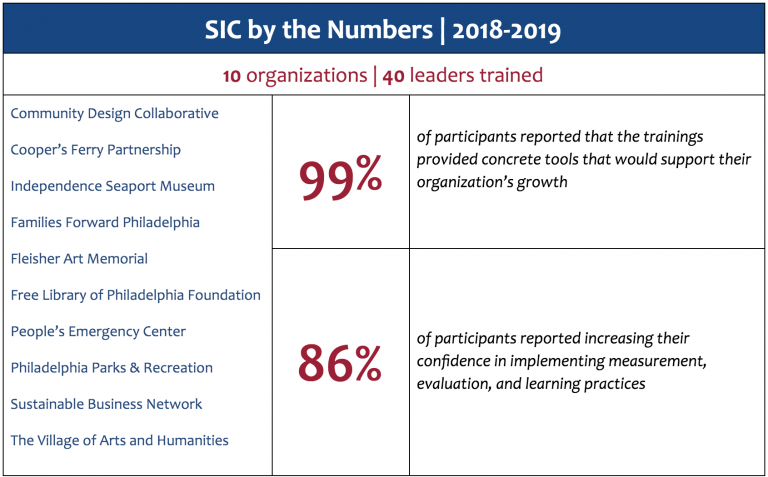 For example, the Sustainable Business Network (SBN) team developed and administered a survey at their quarterly meetings of the Green Stormwater Infrastructure (GSI) Partners Initiative.  Now they are using the data they've collected from these surveys to inform how best to advance the local GSI industry and ultimately amplify the environmental, social, and economic impact of GSI in the region. As Anna Shipp, SBN's Executive Director, shared: 
"SBN's participation in SIC couldn't have come at a better time.  As we approach our 20th anniversary, we have been reassessing how we measure and communicate our impact.  SIC has helped develop our skill set – and our organizational culture – in qualitative and quantitative data collection and analysis, which are critical to our understanding of how well we are advancing our mission." 
Over the last year, we've had the privilege of experiencing the passion that organizations like SBN bring to advancing their mission. Collectively, the organizations participating in the SIC address a variety of critical issues affecting the region including education, arts and culture, public space, and sustainability. Even with their passion, we've heard how challenging it can be for organizations to find opportunities to share their stories with the broader community. 
On September 25th, we will host our second SIC Final Showcase, where the ten participating organizations from the second cohort will share their SIC journey and how it has impacted their organization's work, in an engaging lightning-style format. Each organization will share their work and learnings in just five minutes using 20 slides. 
You won't want to miss it.  Join us at Fleisher Art Memorial (719 Catharine Street) on Wednesday, September 25, 2019 from 5:00 PM — 8:00 PM. Registration is free! 
Click here to let us know you'll be there. We hope you'll join and be a part of the process.