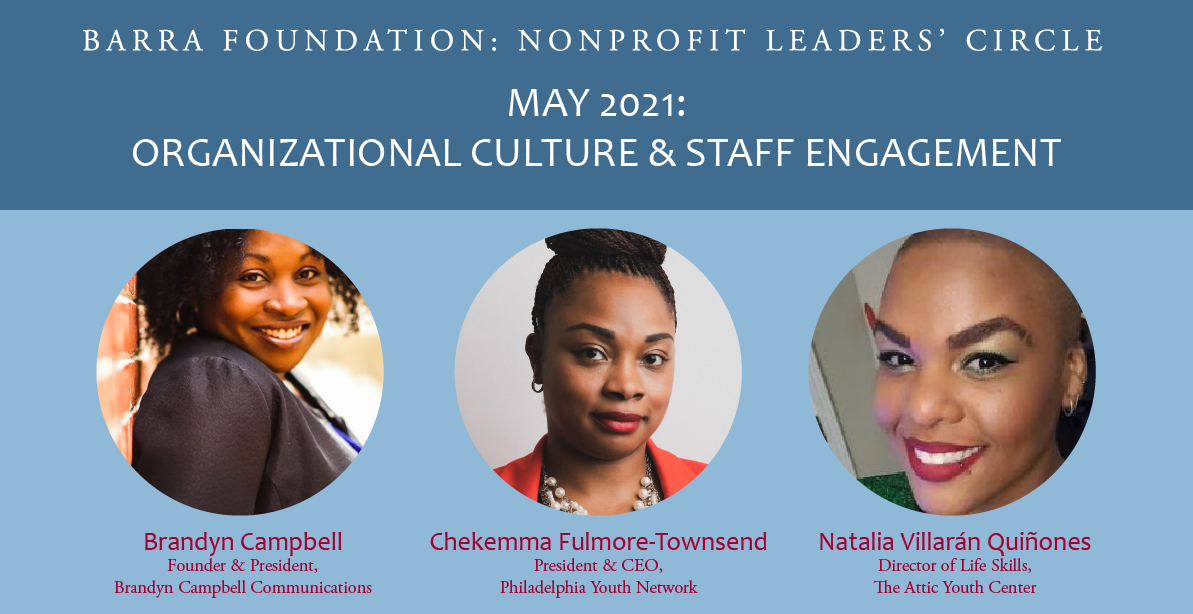 "It has been challenging to reconcile competing priorities, different understandings of goals & how to get there, and the always-present reality of never having enough time or mental space to embrace all the causes and reforms to which we aspire."
- Philly Nonprofit Leader
After the last year and a half, the whole world is tired. Adam Grant recently wrote an article in the NY Times putting a name to what so many of us are feeling - "languishing". It's not quite burnout or depression, but somewhere between, where your motivation is dulled and you feel somewhat aimless. As leaders, we are so often focused on supporting constituents that we don't spend enough time cultivating our internal organizational culture to ensure staff are engaged and healthy… not to mention spending time taking care of ourselves. 

At the latest session of the Nonprofit Leaders' Circle Convening*, leaders reflected on how they are building positive and inclusive cultures that create space for candid and vulnerable conversations. We heard from Brandyn Campbell, Founder of Brandyn Campbell Communications, Chekemma J. Fulmore-Townsend, Philadelphia Youth Network's CEO, and Natalia Villarán-Quiñones, The Attic Youth Center's Director of Life Skills, as they looked inward and shared resources, tools, and practices for engaging staff and staying energized in the face of challenge. 
Brandyn Campbell, Brandyn Campbell Communications, Founder & President, reflected on her  experience working with organizations to build more human, inclusive workplaces. She emphasized the importance of being transparent and intentional in communication, while recognizing that we have all undergone collective trauma over the last year. 
Chekemma J. Fulmore-Townsend, Philadelphia Youth Network, President and CEO, shared how she has approached engaging her staff as a leader. Early on in the pandemic, she recognized that "you can't pour from an empty cup" and has used strategies for self-care including meditation exercises and appreciative inquiry with her staff to better understand their needs and goals.
Natalia Villarán-Quiñones, The Attic Youth Center, Director of Life Skills, discussed how to apply a trauma-informed approach to working with staff that values them as community. She encouraged leaders to model the behavior they want to see by setting boundaries and creating a safe and transparent environment for staff to express their emotions. 
The discussion surfaced 5 tips for cultivating a positive culture and increasing staff engagement. 
Focus on your own self care as a leader, in addition to the self care needs of your staff: Model self care and give your staff permission to show up as they are. Encourage staff to take the space they need to take care of their mental health. Ask your staff: How are you feeling today? What can I do to help?
Set personal boundaries and encourage your staff to do the same: With the changing nature of work, setting healthy boundaries is more difficult - and more important - than ever before. Ask yourself: How can you be intentional about setting boundaries for yourself and your staff?
Be intentional about shaping your organization's culture, particularly when focusing on DEI: Recognize that DEI work is a continual process and you don't need to be the perfect anti-racist advocate. Ask yourself: How can I learn and grow from my mistakes?
Create space for vulnerability: Be transparent about not having all the answers and open yourself up to different paths and outcomes: Ask yourself: Will I choose courage or will I choose comfort in the face of uncertainty? 
Use appreciative inquiry to engage staff: Meaningfully involve your staff in conversations about values and what they're willing to take responsibility for making happen. Ask your staff: "How can you move from where you are right now to where you want to be?" and "How can I show up as a leader to empower you to do this work?"
Below are 5 tools that were shared during the convening as helpful resources for building organizational culture and engaging staff:

How will you build on the lessons you've learned over the last year to cultivate a more inclusive culture in your organization?

 
*This quarterly convening was part of the Nonprofit Leaders Circle, funded by The Barra Foundation, being run by ImpactED, Connect the Dots, and Witty Gritty. Established in Fall 2020, The Nonprofit Leaders' Circle provides over 100 leaders of Barra Foundation grantees with opportunities for continuous peer-to-peer learning and resource sharing across organizations. Our next convening will take place in August 2021.