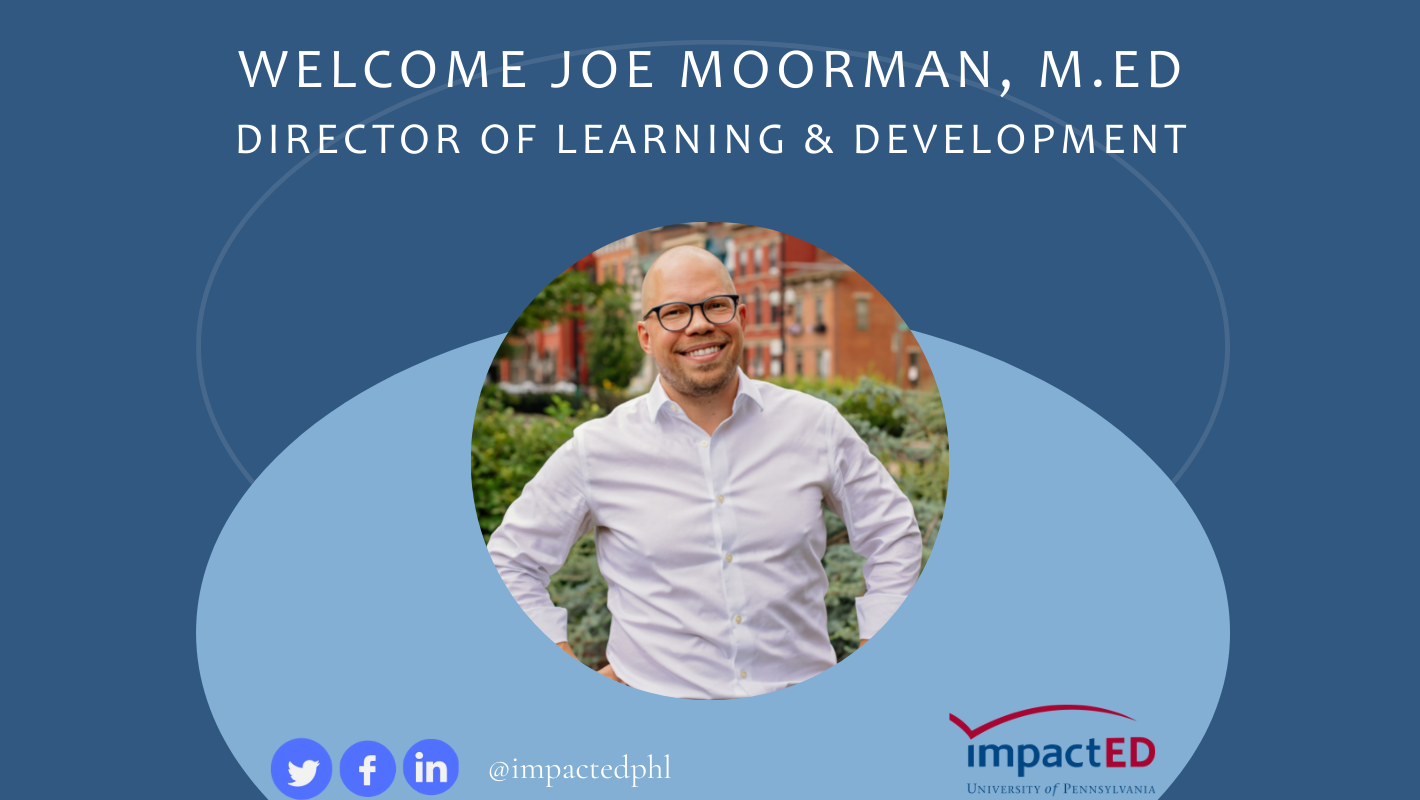 ImpactED is excited to announce that our team continues to grow! We're happy to introduce our newest team member, Director of Learning and Development, Joe Moorman.
Tell us a little bit about your background. Where are you from and what led you to your job at ImpactED?
My wife, son and I just moved to Philly from my hometown of Cincinnati, Ohio. This move was actually a "return" of sorts, as I started my career in Philly through Teach For America - first as a middle school English teacher and basketball coach and then as a nonprofit leader for Teach For America's Philly and Delaware regions. After 9 years back in Cincinnati, we made the move to Philly to be closer to my wife's family on the East Coast. I have a deep love for both Cincinnati and Philly, so it is great to be back here and to reconnect with all of the people and places I know while also launching a whole new Philly "chapter."

On the professional side, I've worked in a variety of nonprofit leadership roles over the past twelve years - as a development manager, chief of staff, program director and executive leader. While the anchor for my work and interests has always been social change - specifically educational equity, given my start in the classroom - I have also developed a deep passion for organizational learning and development in the nonprofit space. Prior to joining the ImpactED team, I worked at Mayerson Academy in Cincinnati, where I launched an initiative focused on expanding the capacity and deepening the impact of the nonprofit community through world class professional learning, coaching and peer networking. The initiative - Strong Cincinnati - has reached more than 50 nonprofits across multiple sectors in Cincinnati and has led to some real programmatic and cultural breakthroughs for many organizations.

ImpactED is, in many ways, a perfect place to put what I've learned about organizational learning and development into practice while also deepening and expanding my own understanding of what it looks like to create social change. I feel really lucky to have landed here.

Can you describe your new role at ImpactED and what you're most excited about/what you hope to achieve?
In my role as Director of Learning and Development, I am leading the team that designs and delivers ImpactED's portfolio of learning and development services. This includes ensuring high-quality design, delivery and evaluation of our current programs while also capitalizing on opportunities to expand our reach and impact through scaling existing programs launching new initiatives.

As someone who is drawn to work that accelerates social change, I am most excited about the opportunity to equip so many of our city's nonprofit leaders and organizations to deepen and expand their impact. Organizations across our city are already doing truly consequential work - in many ways, we are helping them to really hone in on their unique pathway for creating change so they can do what they do even more effectively.

How do you spend your free time?
My wife, Kate, and son, Graham, have been spending a lot of time exploring our new neighborhood of Queen Village and getting re-acquainted with Philly through the incredible food scene. Beyond that, I'm an avid Cincinnati sports fan - especially of Xavier Musketeers basketball. You can regularly find me kicking back to watch a game with my dog, George!

What's your favorite quote at the moment?
I've always loved the simplicity of Abraham Lincoln's quote: "Whatever you are, be a good one." I think it speaks to the virtue in striving for success while also striving to be a good person along the way.

What historical figure (living or not) would you most like to have dinner with?
I feel like there is a serious and a not-so-serious way to answer this question, so I'm going to lean in the slightly not serious direction and say Guy Fieri. He seems like an absolute blast to hang out with (and a pretty nice guy, too), plus he knows every good place to eat across the country. You know it would be a good time riding around in that old-school Camaro convertible!