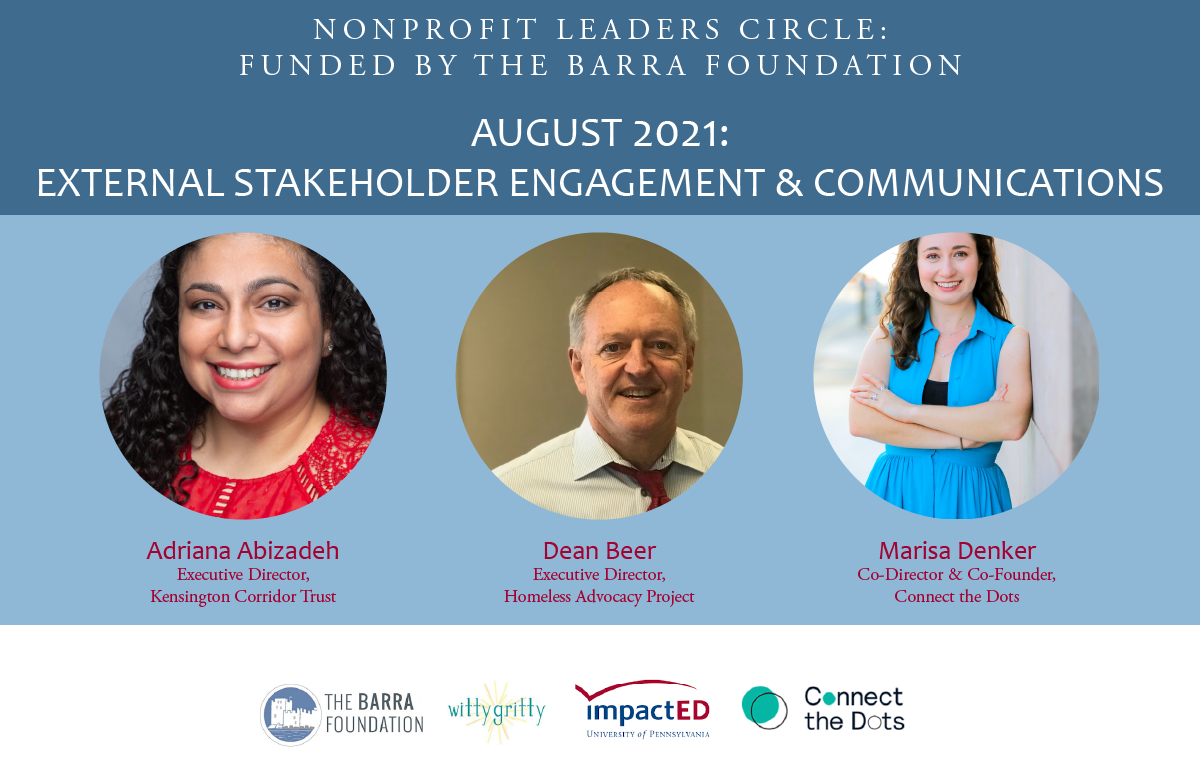 "The careful and collaborative engagement of all voices is critical to building trust and co-creating robust, resilient responses to the challenges facing our communities today."
- Marisa Denker, Connect the Dots
The August Convening of the Nonprofit Leaders Circle* dove into the heart of what makes high quality and inclusive engagement possible. During the convening, our guest speakers brought new tools and perspectives to thinking about communication and making connections with stakeholders. Leaders also discussed the value of centering and empowering the communities that will be most affected by a project or initiative. 
Adriana Abizadeh, Kensington Corridor Trust, Executive Director, reflected on her experience working to shift and build community power. She emphasized the importance of understanding power dynamics between those making decisions and those who are most impacted by a decision's outcomes.
Dean Beer, Homeless Advocacy Project, Executive Director, offered insights on how to build relationships across differing perspectives and opinions, and how active listening goes hand-in-hand with building trust and transparency when building connections over time.
Marisa Denker, Connect the Dots, Founder & Director, shared her approach of layering outreach and engagement tactics to meet the needs of different communities. She shared how her experience shows that outcomes are more impactful when engagement meets people where they are.
The discussion surfaced 5 tips for supporting external stakeholder engagement and communications. 
Build relationships: Building relationships and trust is a process that takes consistent time, energy, and meaningful engagement. Ask yourself: are you putting enough time and energy into your relationships and building new ones?
Shift and build power: Communities being affected by a decision should be prioritized as the experts, decision makers, and leaders. Ask yourself: am I including the end users?
Engage in active listening: It is more important to listen than to respond and to give everyone the opportunity to understand each others' points of view. Ask yourself: do I know when to sit back and listen?
Think long-term: Impactful engagement is not short-sighted or temporary but rooted in long-term visioning and understanding. Ask yourself: am I thinking of the future and being purposeful in my communication?
Connect the unconnected: Finding and establishing common goals and needs is not only possible but the first step in connecting systems that function in isolation. Ask yourself: who else might be working toward my goals?
Below are 5 tools that were shared during the convening as helpful resources for supporting external stakeholder engagement and communications.
Ladder of Participation - This ladder is a tool to help understand power dynamics in decision-making processes.
Three Cups of Tea - This framework shines light on how building trust with stakeholders and communities takes time and consistent effort.
Nonprofits Integrating Community Engagement - The NICE is a guide focused on providing tools and resources for nonprofits to enhance their engagement practices.
Six Principles for Equitable and Inclusive Civic Engagement - This article provides an overview of key principles that can be used to guide truly equitable engagement of stakeholders and communities.
Want to Virtually Enlist and Engage your Nonprofit's Stakeholders? This is how - This article provides an overview of strategies for virtual community building with stakeholders.
What areas of your work could be enhanced through community input and expertise? How might you take the next steps to more deeply connect and collaborate?

*This quarterly convening was part of the Nonprofit Leaders Circle being run by ImpactED, Connect the Dots, and Witty Gritty. Established in Fall 2020, The Nonprofit Leaders' Circle provides over 100 leaders of The Barra Foundation grantees with opportunities for continuous peer-to-peer learning and resource sharing across organizations. Our next convening will take place in Fall 2021.