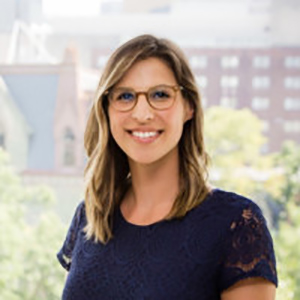 Assistant Director of Learning & Development
Alexandra Bird Becker is the Assistant Director of Learning & Development at ImpactED. Alex has nearly 10 years of experience working in education and public-sector roles and is invested in supporting public sector organizations to increase their effectiveness.
Alex began her career as an elementary school teacher with Teach For America in rural Louisiana, where she realized her passion for education and education policy. She went on to work in the Office of Talent at the School District of Philadelphia, where she managed the recruitment and selection of elementary teachers district-wide.
Prior to joining ImpactED as a full-time staff member, Alex served as a graduate fellow at ImpactED while completing a dual degree program at the University of Pennsylvania, earning both an Master of Public Administration at the Fels Institute of Government and an Master of Science in Education at the Graduate School of Education.
Alex graduated from Bucknell University in 2013 with a bachelor's degree in psychology and Russian studies. Outside of work, Alex enjoys exploring Philly's restaurant scene with her family and friends, playing intramural sports (kickball, specifically), and reading novels.